AWS Free Retake July23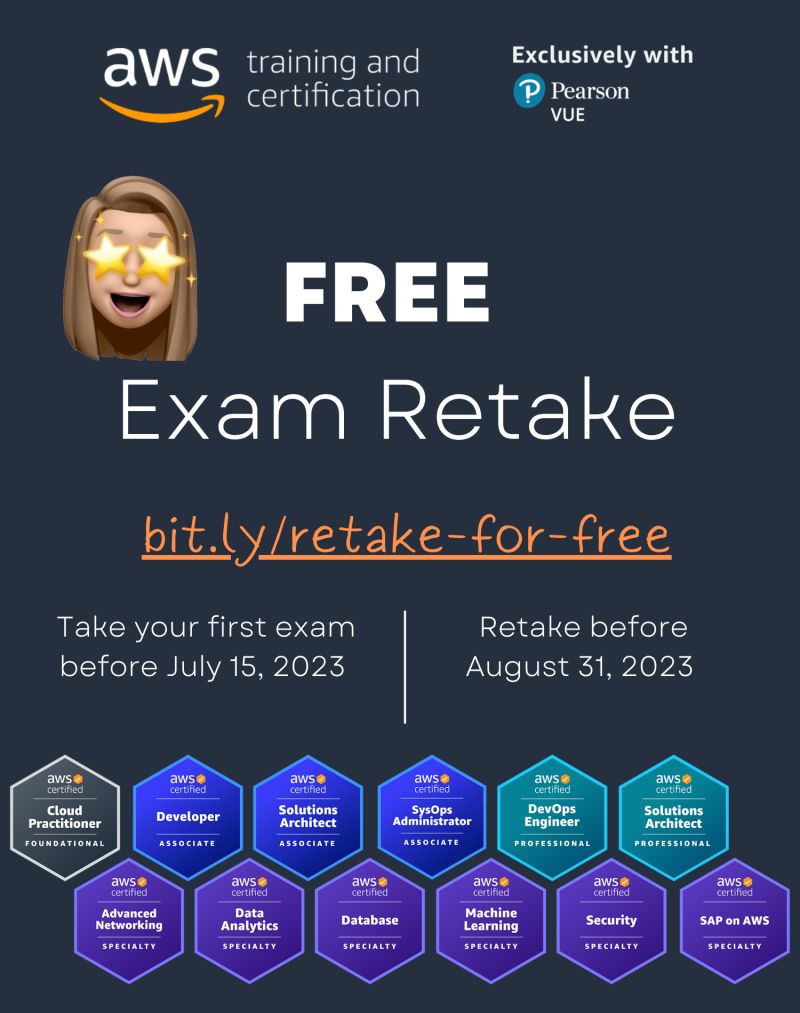 Image credit to Viktoria Semaan
Introduction
Obtaining an AWS (Amazon Web Services) certification can be a significant milestone in your career, demonstrating your expertise in cloud computing and opening doors to exciting job opportunities. However, the pressure of certification exams can sometimes lead to nervousness, resulting in suboptimal performance. To alleviate this concern and promote learning, AWS offers a valuable promotion called the AWS Certification Free Retake. In this blog post, we will delve into the benefits of the free retake program and outline the steps to take advantage of this opportunity.
Why is the Free Retake Useful?
Confidence Boost: The free retake option allows candidates to approach the exam with increased confidence, knowing they have another opportunity to succeed. This can alleviate anxiety and create a more relaxed environment for the second attempt.

Enhanced Learning Experience: Failing an exam can be a learning experience in itself. By analyzing the areas of weakness and dedicating additional study time, candidates can gain a deeper understanding of the subject matter and improve their overall knowledge.

Cost Savings: Certification exams can be costly, and retaking an exam can incur additional expenses. The free retake promotion helps candidates save money by eliminating the need to pay for a second attempt.
Steps
𝐒𝐭𝐞𝐩 𝟏: Register for your exam using the promo code on Pearson Vue: https://bit.ly/retake-for-free
𝐒𝐭𝐞𝐩 𝟐: Take your first attempt by 15th of July 2023
𝐒𝐭𝐞𝐩 𝟑: If you fail the first attempt, schedule the retake before 31st of August 2023. Promo will be automatically applied.
➡️ More info https://bit.ly/retake-for-free
Happy studying and good luck with your exam!